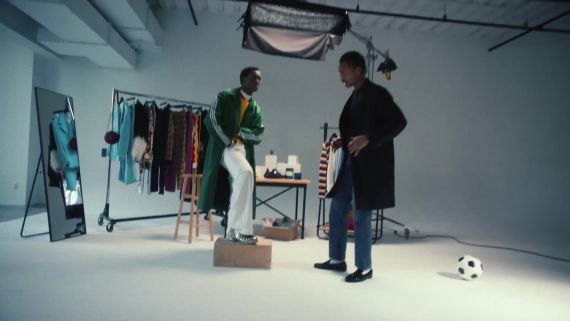 Play
Fashion
Fashion icon and social media star
Wisdom Kaye
has captivated people around the world with his unique approach to fashion. Whether he's nailing challenges, debunking fashion myths, or walking runways, the 21-year-old is a go-to source of style inspiration for millions on the internet. After bursting onto the social media scene in 2020, Wisdom has gone from racking up over 8 million followers on TikTok to starring in high-fashion campaigns and building a name as a fashion brand favorite.
In a special issue for Teen Vogue, the model showcased his personal style with a selection of genuine luxury items found on
eBay
and verified by their
Authenticity Guarantee
service. ICYMI, eBay is emerging as the ultimate destination for authentic fashion, from
high-end timepieces
to cult-favorite sneakers
cult-favorite sneakers
.
The e-commerce shopping platform's Authenticity Guarantee is a service that verifies the legitimacy of qualifying pieces across categories like
watches
,
sneakers
,
handbags
, and
jewelry
, among others. To receive all the benefits of eBay's Authenticity Guarantee, simply look for the blue check mark badge that appears next to all eligible listings on eBay. Your purchases will then be examined by expert authenticators who will make sure the items are genuine.
In this exclusive Teen Vogue video, you'll get a look behind the scenes of Wisdom's photo shoot and find out how the fashion star and the celebrity-loved stylist
Ian Bradley
style looks that empower him to express himself. "If you're trying to find who you are in this world, at the very least, make sure the things that you are wearing are real, are you, and are authentic," Wisdom tells Teen Vogue.
Play
More